Your home's exterior siding serves an important purpose – it protects your house from the elements while also providing aesthetic appeal. But over time, siding can become damaged, discolored or simply outdated. When this happens, a DIY siding replacement project may be in order.
You essentially have two options: take on the project as a DIY job or hire a professional siding contractor.
This article will provide an in-depth look at both routes so you can decide which is best for your situation.
DIY Siding Replacement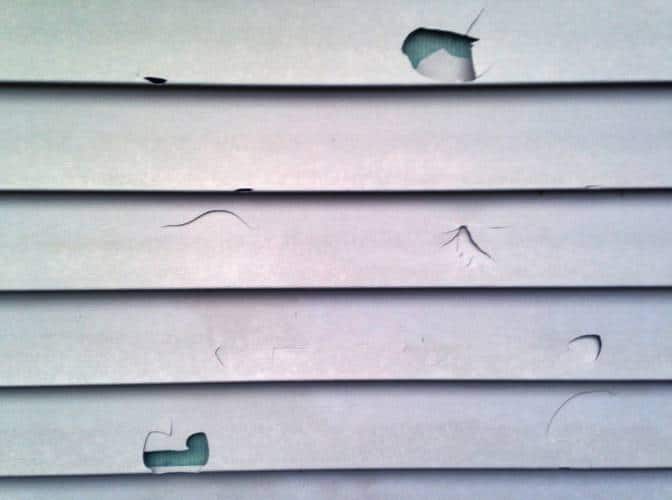 Before diving into the DIY versus professional debate, let's start with a basic overview of siding replacement.
Reasons for DIY Siding Replacement:
There are several common reasons homeowners opt to replace their existing siding:
Damage: Cracks, dents, missing pieces, or storm damage can all necessitate new siding. Mold, mildew, and rot may also force replacement.
Wear: Over time, siding simply wears out. Fading, flaking, and other signs of aging mean it's time for an update.
Energy efficiency: New siding materials and proper installation can greatly improve the energy efficiency of your home. This saves on energy bills.
Aesthetics: Tastes change over time. If you want to update the look of your home, installing new siding in a fresh, modern style can completely transform the curb appeal.
Different Siding Materials:
If you do plan to replace your siding, you'll need to select a material. Here are some of the most popular options along with a brief description of each:
Vinyl: The most commonly used residential siding material. Vinyl is affordable, low-maintenance, and mimics the look of wood quite well. It comes in clapboard, dutch lap, vertical board, batten, and shake styles.
Fiber cement: Made from Portland cement, sand, cellulose fibers, and other materials, fiber cement is moisture-resistant and very durable. It's a great wood lookalike.
Engineered wood: Composite wood siding contains a mix of materials like cedar chips, recycled plastic, etc. It won't rot but does require painting.
Wood: Cedar and redwood are excellent natural wood siding choices thanks to their weather resistance. But they do require more maintenance than synthetic siding.
Brick: A premium siding option, brick is extremely durable and attractive. It also raises a home's value significantly. However, it is one of the most expensive sidings.
Stone: Whether natural or faux, stone veneer siding provides a sense of grandeur and timeless beauty. It requires special masonry skills to install.
Factors of the Cost for DIY Siding Replacement:
Speaking of cost, here are some of the factors that influence the overall price of a siding replacement project:
Amount of siding needed (determined by square footage)
Labor costs
Need for repairs to walls or other structures underneath existing siding
Removal and disposal of old siding
Additional supplies like underlayment, trim pieces, flashing, etc.
Location and accessibility of home
As you can see, there's a lot that goes into a new siding installation. Next, let's look at two ways it can be tackled – as a DIY or by hiring a professional.
Option 1: DIY Siding Replacement
For the hands-on homeowners out there, taking on a siding replacement solo (or with a helper or two) allows you to save on labor costs. But be warned – this is no small feat! Here's an overview of what the DIY route involves:
Gather Tools and Materials
Tackling a major project like siding replacement requires having the right tools on hand including:
Hammer
Utility knife
Level
Tape measure
Chalk line
Ladder
Power saw
Tin snips
Safety equipment – goggles, boots, gloves, etc.
You'll also need to purchase all the materials:
Siding panels/boards
Flashing
Trim pieces
Starter strips
Underlayment
Fasteners
Adhesives/sealants
This can represent a significant upfront investment, especially if you don't already own many of the tools.
Demolition: Remove Old Siding
The first step in any siding project is demolishing the existing siding. This is a tedious process:
Start at the top and work down methodically.
Pry off each panel, taking care not to damage the structure underneath.
Remove all nails, working slowly and carefully.
Detach all trim pieces around windows, doors, corners, etc.
Dispose of old siding responsibly if not reusing.
Prep the Structure
Once all siding is removed, take time to properly prepare the structure:
Inspect for any damage or deterioration that needs repairing.
Install plywood sheathing if needed for a smooth surface.
Check for level and plumb.
Flash corners, windows, and roof lines.
Proper prep prevents major problems down the road.
Install New Siding and Trim
Now the real work begins!
Start by installing starter strips at the bottom of each wall. Ensure level all around.
Work from the bottom up, overlapping and interlocking siding panels.
Nail/screw panels per manufacturer instructions.
Cut panels as needed to fit around windows, doors, roof lines, etc.
Use trim pieces to finish edges and transitions.
Work carefully around any pipes, wires, vents, or other obstructions.
Take your time here – any mistakes will be obvious once finished.
Clean Up and Protection
As a final step:
Clean the new siding per the manufacturer's specifications.
Paint or seal if needed.
Reinstall fixtures like lights, railings, and house numbers.
Discard any scrap materials and tools.
Protect new siding from damage until the project is complete.
DIY Siding Replacement Pros
If you're an avid DIYer, taking on your own siding project allows you to:
Save money: You avoid paying labor costs which can account for 50% or more of the total project price.
Control the schedule: You can work at your own pace and on your own timeline.
Gain a sense of accomplishment: Successfully replacing your home's siding yourself gives a major feeling of satisfaction.
Make minor repairs: Having installed the siding, you can easily handle minor fixes that come up.
DIY Siding Replacement Cons
However, there are also some significant downsides to the DIY route that you need to consider:
Mistakes are costly: Even small errors in siding prep or installation can lead to very expensive repairs down the road.
It's physically demanding: Installing siding involves lots of climbing, reaching, lifting, and carrying. It's a tough job.
Specialized skills required: Knowledge of proper installation techniques, safe ladder work, using cutting tools and more is a must.
Solving problems is tricky: Identifying and correcting any mistakes or issues that arise during the project requires experience.
Safety hazards: Working at heights with power tools is inherently dangerous. Proper precautions are essential.
Key Considerations for DIYers
If you do want to tackle a DIY siding installation, keep these tips in mind:
Have at least one experienced assistant – this is not a one-person job.
Take the time to educate yourself on proper siding techniques and safety procedures.
Invest in quality materials and tools – don't cheap out.
Work slowly and methodically. Rushing leads to mistakes.
Be prepared to dispose of old siding properly – don't underestimate this cost.
Carefully inspect each stage of the job as you go and immediately address any issues.
Know when to call in a pro! If problems arise or the project scope exceeds your skills, don't be afraid to get help.
For many homeowners, the potential headaches and risks outweigh the cost savings of DIY siding replacement. Calling in the experts is often wise. Let's look at that option next.
Option 2: Hiring a Professional Siding Company
Rather than taking on the daunting task solo, many homeowners opt to hire professional siding contractors to handle the project. Here's an overview of what you can expect:
Consultation
It starts with an initial consultation where experienced contractors will:
Evaluate your existing siding and identify any problem areas or special needs.
Discuss siding material options and make recommendations based on your home style, budget, lifestyle factors, and location.
Take precise measurements and determine the exact amount of siding needed.
Develop a complete project timeline and quote based on your specifications.
Explain what's included, outline your investment and answer any questions.
Material Purchasing
The siding company will:
Determine exact requirements and place orders with manufacturers and suppliers.
Often have access to discounts you wouldn't get as a homeowner.
Ensure all specialty pieces, trim, and accessories are accounted for.
This alleviates the guesswork and front-end costs for you.
Preparation
Experts will take care of all necessary demo and prep work:
Complete, efficient removal of old siding.
Inspection and repair of any structural damage.
Installation of protective barriers.
Correct any issues with the wall plumb or level prior to the new siding going up.
Careful flashing and sealing around fixtures, penetrations, and problem areas.
Proper prep is where DIY projects often go wrong. Pros get it right.
New Siding Installation
For the main event, you can count on specialists to:
Have all tools, equipment, and crew required to work quickly and efficiently?
Follow the manufacturer's instructions precisely for proper installation.
Employ techniques like using chalk lines and laser levels to ensure straight, even courses.
Exactly fit and place every piece, including tricky cuts around windows, doors, and obstructions.
Apply trim, flashing, and sealants professionally for a watertight finish.
It will be done right the first time.
Cleanup and Finishing Touches
Finally, the crew will complete the job by:
Hauling away all debris and waste for proper disposal.
Fine-tuning anything that needs adjustment.
Providing recommendations for any follow-up caulking or painting.
Walking you through caring for your new siding.
When they drive away, the job will be 100% complete.
Benefits of Hiring Siding Pros
Here are some of the biggest advantages to bringing in professional siding contractors rather than taking the DIY route:
Experience: They have installed numerous sidings on many home styles. You can trust them to get it right.
Efficiency: With the right equipment, crew, and skills, they complete jobs much faster than a DIYer.
Problem avoidance: Their expertise identifies and corrects any issues early on, preventing costly mistakes.
Safety: Licensed, bonded, insured crews adhere to strict safety protocols.
Warranties: Professional installation warrants the workmanship for a specified period.
Peace of mind: Sit back knowing your project is handled by experts.
One-stop service: Reputable firms handle the entire job including permits, disposal, inspections, etc.
While hiring contractors may cost more upfront, it often saves money in the long run when you consider the benefits.
Tips for Hiring Siding Pros
Follow these tips to find the right siding company for your project:
Ask friends and neighbors for referrals – firsthand experience goes a long way.
Verify necessary licensing, insurance, and bonding.
Look for companies that employ their own crews rather than subcontracting.
Choose local, well-established companies over fly-by-night operations.
Ask plenty of questions and get detailed, written estimates.
Check reviews on sites like Google, Yelp, and the Better Business Bureau.
Look for specialized training and manufacturer certifications.
Taking the time to find an excellent siding contractor ensures fantastic results.
Key Takeaways: DIY Siding Replacement vs Professional Siding Replacement
Now that we've examined both DIY and professional siding replacement in-depth, let's recap some key takeaways:
For DIYers, proper preparation is crucial – don't rush into demolition! Also, have an assistant for safety, get training on techniques, and buy quality materials.
Hiring a professional siding contractor offers experience, efficiency, and peace of mind. But it does cost more upfront.
Interview multiple contractors and verify qualifications to find the best fit for your project.
Replacing home siding is a major endeavor – mistakes can be disastrous and expensive.
Know your own limits; there's no shame in calling in reinforcements if a project feels overwhelming!
Replacing your home's siding is a big investment. Make sure you take the right approach for the best long-term outcome.
FAQs on DIY Siding Replacement:
Here are answers to some common questions homeowners have about DIY versus professional siding replacement.
Is it cheaper to replace siding yourself?
In most cases, DIY siding replacement is cheaper when looking at immediate project costs. You avoid paying professional labor costs. However, if any mistakes are made, repairs down the road could end up costing more than if you'd hired contractors to do the job properly the first time.
Can I install vinyl siding myself?
With proper planning, preparation, and safety precautions, it is possible for a committed DIYer to install vinyl siding themselves. Make sure you understand correct set-up, spacing, nailing techniques, and seam placement. But small mistakes are very obvious with vinyl siding, so precision is key.
Does siding have to be installed by a professional?
Generally, there are no laws stating only professionals can install replacement siding. However, a permitted job may require being completed or overseen by a licensed contractor in your area. If doing it yourself, you assume all liability.
How long does it take to replace house siding?
For professional crews equipped with the right tools and experience, plan on an average of 3-7 days to complete a full siding replacement on a typical single-family home. Working alone or with a helper, DIYers should budget 2-4 weeks for the same job.
What are the signs I need to replace the exterior siding?
Common signs it's time for new siding include cracking, splintering, or fraying; paint that won't adhere; mold, mildew, or rot; warped, loose, or missing pieces; moisture issues; gaps at seams and joints; and overall worn-out appearance.
DIY Guides:
Conclusion
Updating your home with a new siding installation can protect your house, reduce energy bills, and give you updated curb appeal. But it's a complex project requiring time, skill, and diligence.
Carefully weigh the pros, cons, costs, and risks associated with DIY versus professional siding replacement. And don't be afraid to call in reinforcements – there's no shame in getting help!
Investing in the right siding installation will benefit your home for decades to come.